Let Our Family Take Care of Your Family!
Dr. Jeannette Abboud-Niemczyk D.M.D, FAGD has been providing dental care for patients in the Drexel Hill area since 1985.
Throughout our website, you will find an abundance of information about our practice, procedures we provide, and dentistry in general.
Please explore and learn as much about dentistry and our services as you desire. We believe our patients should have as much information as possible in order to make important, informed decisions regarding their oral health and treatment options.
Our patients are our most important asset, and we strive to develop long-lasting, trusting relationships with all of our patients. Your referrals are welcome and appreciated.
Dr. Jeannette Abboud-Niemczyk
Mission Statement

Our mission is very simple, an unwavering commitment to the health and appearance of our patients' smiles. We offer the highest quality treatment and personalized service to each and every patient. It is our goal to provide the very best dental care available. We treat each and every patient the same way that we ourselves would like to be treated, therefore, our dental office is comfortable, friendly, and stress-free. We establish relationships that are life-lasting, practice-building, and will benefit all concerned.
21
Sep
12:58PM
Accepting new patients. Call us now (610)449-1513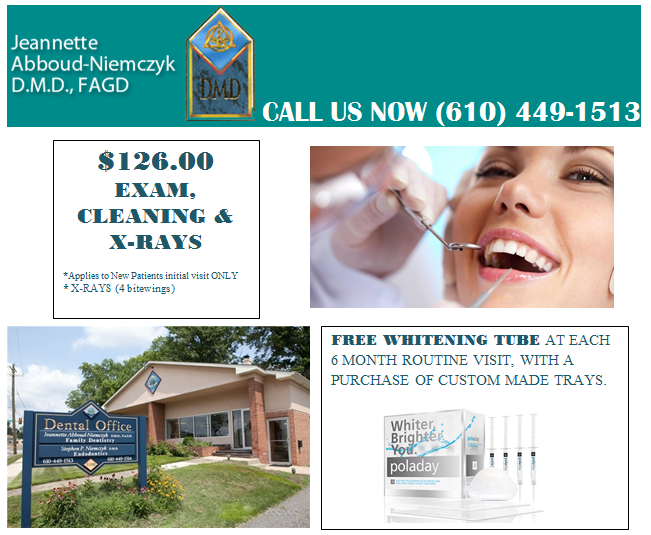 9
Mar
3:03PM
We would love to change your smile! Call our office today at 610-449-1513
16
Mar
3:36PM
let our family care for your family
12
Mar
11:12AM
Check out this 5 star review by Stephanie Niemczyk: Best dentist I've ever been to! Super clean, friendly and comfortable experience!